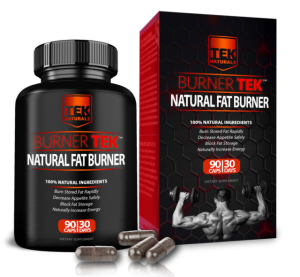 BurnerTEK is a weight loss supplement that is manufactured by "TEK Naturals". "TEK Naturals" is a supplement manufacturer that is well known within the fitness and bodybuilding supplement industry.  It claims to initiate and accelerate fat loss and reduce appetite with 12 primary natural ingredients.
Ingredients of BurnerTEK and Scientific Studies
The list of ingredients include:
Niacinamide
Pyridoxine HCl
Glucomannan
Caffeine Anhydrous
L-Carnitine
Green Coffee Bean Extract
Green Tea Extract
Garcinia Cambogia
Turmeric Powder
Of these ingredients, Glucomannan is said to provide satiety for the user by absorbing water and forming a gelatinous layer in the stomach – simulating a feeling of fullness. L-Carnitine is supposed to increase the metabolic rate of the body, and it is naturally produced in the body. However, studies done on the product have concluded that it has no measurable impact in weight loss. Caffeine is the only ingredient that has been shown in clinical studies to have a measurable impact in raising the metabolic rate of the body.
Dosage
The recommended dosage for the product is 3 capsules per day, each to be taken before meals.
Effectiveness of BurnerTEK and Noted Side Effects
Most user reviews on Amazon say that the product is too pricey and that there is no measurable impact on weight loss.
A few users have experienced loss of fat quite quickly with this product.
Side effects for the product can arise from several ingredients. Garcinia Cambogia has been shown to have toxic effects on the liver with long-term use. Excess caffeine has been shown to cause nausea, dizziness, constipation and insomnia.
Cost
The manufacturer has listed the product at $59.99 for 30 capsules (10 day supply). It's quite expensive when you consider the frequency at which you would have to consume the product.
Conclusion of BurnerTEK
While a number of ingredients have been used to manufacture this product, the inclusion of several ineffective and possibly dangerous ingredients have made recommending this product a bit difficult. While caffeine is a proven weight loss agent, Garcinia Cambogia is dangerous for long term use. Therefore we suggest that you look for a product that does not contain ingredients which may cause severe side effects.
Summary
Reviewer
Review Date
Reviewed Item
Author Rating