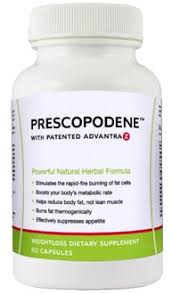 Prescopodene is a weight loss supplement that many are saying is "over-hyped" and "too good to be true". Prescopodene is marketed as the most powerful diet pill in almost every English-speaking country. The manufacturers claim that Prescopodene is powerful enough to cause the user to lose 10lbs in 3 days, and there are numerous customers on the official website testifying to the efficiency of the supplement.
The manufacturers of Prescopodene  claim the product is clinically proven by the Obesity Research Clinic, which is a clinic that does not have an address. Prescopodene  is said to work by increasing the user's metabolism and ability to burn fats. It also allegedly suppresses the user's appetite so that he/she consumes less calories than they did before.
The manufacturers of Prescopodene are an international company known as "JC Arnica Nutraceuticals" who produce a whole range of supplements." JC Arnica Nutraceuticals" is on a list of scam companies, despite the fact that they claim to be reputable and trustworthy.
The user is advised to start by taking one capsule per day and slowly progress to taking two capsules per day, one in the morning another in the afternoon, preferably before meals or a workout session.
Prescopodene   can only be purchased through the eye catching official website at £29.9 for a monthly prescription.
Ingredients in Prescopodene :
Prescopodene contains 12 main ingredients, the amount contained in each capsule is not specified.
Cocoa Extract.
Yerba Mate.
Pantothenic Acid.
Grape Seed Extract.
Pyridoxine HCP.
Ascorbic Acid.
Magnesium.
Green Tea.
Advantra Z.
Ginger Root.
Tyrosine.
DMAE dimethylethanolamine.
Pros
The official site has good FAQ section.
There is a 30-day money back guarantee.
The product encourages dieting and exercise with the supplement.
Cons.
The manufacturer is on a list of scam companies.
The amount of ingredients in each capsule is not given.
Some of the ingredients used have extreme side effects e.g. Advantra Z.
The clinic that approved the claims of the product is not reliable.
It is not available in retail stores.
Side effects.
High blood pressure.
Increased heart rate.
Insomnia.
Jitters and shakes.
Headaches.
Fevers
Mood swings.
Stomach problems.
Heart burn.
Customer Reviews: 
Independent customer reviews of Prescopodene are not easy to track down as they are regularly removed. Here are a few that we managed to find.
"Prescopodene  is the worst supplement in the history of supplements."
"I have to warn people about this drug, last week it almost gave me a heart attack while driving, I stopped using it immediately."
"I will admit it I fell for this company's tricky advertising, but I cannot say that I am 100% disappointed coz I have managed to lose a couple of pounds."
"I know the company is questionable, but I like their product, it may not work for everyone but it works for me."
Should You Buy Prescopodene?
You may be looking at Prescopodene  and thinking it may be worthwhile to spend your £29.9 on it. Trust me there are better products out there for the same price and they are not from a shifty company that is on a scam list.
Summary
Reviewer
Review Date
Reviewed Item
Author Rating