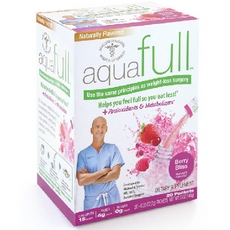 Put simply, Aquafull is a dietary supplement in the form of a mixable drink that is meant to reduce your appetite by giving you a feeling of fullness. It is intended to make dieting easier for you and help you achieve your weight-loss goals.
It was developed by Dr. Michael Snyder and is said to be a replacement for the bariatric surgery given that it fills you up and makes you less hungry, therefore making you eat much less than usual.
The Aquafull formula contains Gymnema Sylvestre, Green Tea, Sucralose, Sweet Potato, Citric Acid, Beet Powder color, Corn Maltodextrins, Inulin, and natural flavor.
The green tea in the formula supposedly acts as a metabolism increaser while Gymnema Sylvestre reduces cravings for sweet foods. However, there is no clear information on the official website about how the ingredients work exactly.
Summarizing, this product essentially claims to be both an appetite suppressant and a metabolism booster that can help you drop pounds effectively.
Does Aquaful Cause Any Side Effects?
The reported side effects caused by this product include headaches, nausea, vomiting, dizziness, diarrhea, irregular heartbeat, and insomnia.
Aquafull Pros
It may induce a thermogenic effect in the body.
The product can be consumed on the go.
It may boost metabolism.
Promotes a low-calorie intake.
Aquafull Cons
Aquafull is considered to be just "expensive water."
It could be the cause of some adverse reactions.
There are no clinical studies supporting the alleged efficacy of the supplement.
There is no clear information about how the ingredients interact together in order to produce weight loss.
Does Aquafull Work?
Whether it will work on you is impossible to determine unless you give it a try. However, before purchasing this product, you should definitely check out all the other options on the market.
Summary
Reviewer
Review Date
Reviewed Item
Author Rating