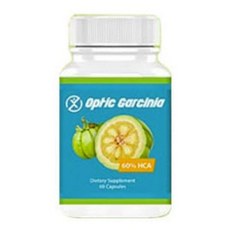 Optic Garcinia is a weight loss supplement that claims to aid in weight loss by increasing the metabolic rate of the body. It claims to be all-natural and is manufactured by "Optic Industries".
Ingredients and Scientific Studies of Optic Garcinia
The major active ingredient for this product is Garcinia Cambogia. Garcinia Cambogia is a tropical plant whose fruit is claimed by many to aid in fat loss. The fruit extract contains HCA (Hydrocytric Acid) which is known to many as a fat loss agent. The manufacturer claims that there are no fillers or additives added to this product.
Garcinia Cambogia has been scientifically studied on numerous occasions but none of these studies detected Garcinia as having a measurable impact on weight loss.
Dosage
The recommended dosage for the product is two pills per day to be taken separately at breakfast and lunch.
Effectiveness and Noted Side Effects
The effectiveness of the product can be debated mainly because of the major active ingredient. Garcinia Cambogia and HCA have not been shown to have measurable impacts on weight loss.
Also Garcinia Cambogia has been shown to cause liver toxicity over long periods of use. Side effects arising from Garcinia include nausea, dizziness, headaches, and constipation.
Cost
Unfortunately we could not find a price for the product. It has not been listed on any major online vendors.
Conclusion of Optic Garcinia
We would conclude that any product that contains Garcinia Cambogia as the single active ingredients is more likely to be ineffective as a weight loss product. This is because it has failed multiple clinical studies. Therefore we would advice you to go for a product that has proven clinical studies and has minimal side effects.
Summary
Reviewer
Review Date
Reviewed Item
Author Rating