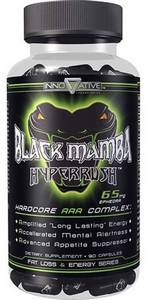 Black Mamba Hyper is a dietary supplement that is meant to burn fat, improve focus, boost energy, and regulate appetite and calorie intake. According to its manufacturer, "Innovative Laboratories", this supplement is an "advanced" weight-loss pill with proven efficacy and intensity.
Black Mamba Hyper has been available for purchase since 2010 and you can easily get it online. You must take one capsule in the morning with a glass of water, every day. It can be consumed by both men and women.
Ingredients and How it Works
Black Mamba Hyper supposedly utilizes a powerful blend of key ingredients in order to help your body burn fat, suppress appetite, increase energy, and lose weight effectively.
The formula contains Caffeine Anhydrous, Tannis, Vasicinone, B-Aminoethylamin HCL, O-Methoxy-Phenylethylamine, Vasicinol, DL-Phenylalanine, 4,2-Dimethylaminoethyl, Thiamine Propyl Disulfide, Evodiae Fructus, Caralluma, Para-synephrine HCL, Lycopodium Serratum, Yohimbine HCL, Mucins, 4-Hydroxy-Phenylethylamine, Phytosterols, and Mucins.
Consider the Following Pros and Cons:
Pros
It may promote fast calorie and fat burning.
It may boost your energy.
It serves as a complement to your diet and exercise plan.
It may promote muscle growth.
It may improve your focus and mental alertness.
It may regulate your appetite.
Cons
It is sold with no money-back guarantee.
There are no conclusive clinical tests serving as evidence that this product actually works.
Claims about the product are a bit inaccurate.
There are not many details provided on the official website.
It can cause some side effects including vomiting, jitteriness, stomachaches, high blood pressure, accelerated heartbeat, nausea, and headaches.
Don't waste your money!
Summary
Reviewer
Review Date
Reviewed Item
Author Rating