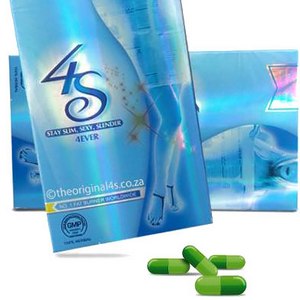 The 4S Slimming Capsules are a dietary supplement in the category of fat burners. According to the manufacturer, it is the most effective way to burn body fat and lose weight. It is made with natural ingredients and is described as having only herbal constituents. Also, this supplement claims to be an energy booster.
The supplement comes in packs of 30 capsules. The recommended dosage is one capsule per day that must be consumed after your breakfast. It is recommended that you take it before 10 am in order to reduce the risk of insomnia.
What Are the Ingredients of 4S Slimming Capsules?
4S Slimming Capsules contains Garcinia Cambogia, Primrose, Aloe, and Extract from Cassia Seed and Lotus Leaf.
How Does 4S Slimming Capsules Work?
4S Slimming Capsules contains ingredients that, once absorbed, work by breaking down the fat that's stored in your body and turning it into fuel for energy. It supposedly does this by accelerating your metabolic rate. The end result is a long-term success in weight loss, according to the manufacturer.
Should You Buy this Supplement?
That is up to you. However, consider the following pros and cons:
Pros
It may increase your metabolic rates.
It may optimize your blood circulation.
It promotes hydration.
It may produce weight loss.
Cons
The capsule must be taken even after you reach your desired weight in order to maintain it, meaning that a long-term commitment to this supplement is required.
You can't take the supplement after a certain hour.
There is a possibility of experiencing insomnia.
There are no clinical studies serving as solid evidence that this formula can actually produce long-term success in weight loss.
In this case the cons outweigh the benefits so we would advise against it.
Summary
Reviewer
Review Date
Reviewed Item
Author Rating